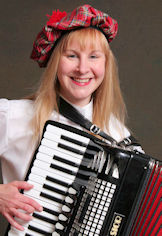 Janette Beale, former Plonkette.
Janette Beale studied flute at the Purcell School, then gained the top music scholarship to continue at Frensham Heights Public School. From there she went on to study accordion and piano at the Royal Academy of Music, graduating with honours. In fact, she plays various instruments including the saxophone.
As an accordionist, Janette is much in demand to play French and Italian music and in cabaret she has performed at various London venues including Salena Jones' Jazz Club, Pizza on the Park and Jermyn Street. She has performed at the Edinburgh festival, the Wandsworth Jazz Festival, in theatres all over the UK and at The London Palladium. She has worked at the Fortune and the Arts Theatres in London's West End, and has performed on most major television and radio channels. She has also worked with many opera singers, performing both on the QE II, and her sister ship the Caronia and other work has included many engagements where the honoured guests were members of the Royal Family.
Scottish and Irish influences in Janette's repertoire relate to extensive tours during her student years playing in folk, folk-rock and traditional bands.
You can hear Janet on our 3rd CD, Rustic Rumpus